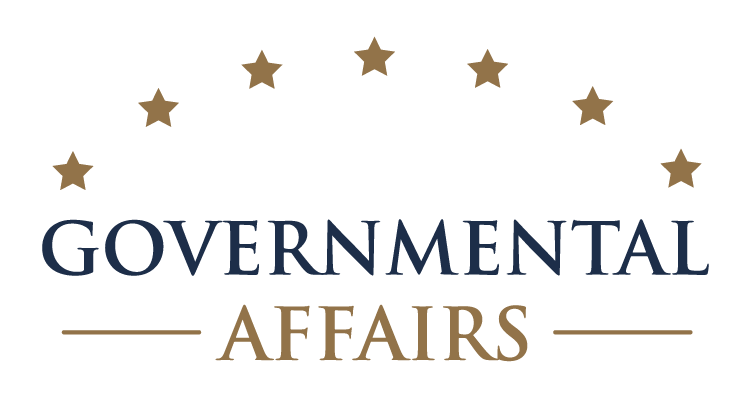 Left to Right: Don Barbour, AT&T; Cindy Williams, CEO of the Cartersville-Bartow Chamber; Janet Queen, Governmental Affairs Committee Chair; and Dr. Ron Newcomb, President of Chattahoochee Technical College and the guest speaker for the Governmental Affairs meeting on February 13, 2017.
Left to Right: Mayor Kenneth Carson, City of Adairsville; Saunders Jones III, 2017 Board Chair, Cartersville-Bartow Chamber; Mayor Al Pallone, City of Emerson; John Cornelius, Georgia Power Company; Mayor Matt Santini, City of Cartersville; Janet Queen, Chair, Governmental Affairs Committee; Commissioner Steve Taylor, Bartow County; Cindy Williams, CEO, Cartersville-Bartow Chamber; and Peter Olson, County Administrator, Bartow County.

Governmental Affairs
The Chamber often serves as a collective voice for the betterment of the business community. The Governmental Affairs committee is at the forefront of current issues and topics ensuring a positive business climate so the community as a whole can thrive. Governmental Affairs not only brings together community leaders from all levels of government but also the Joint Development Authority, Downtown Development Authority, school systems, colleges and universities, non-profit community, Airport Authority, Convention and Visitors Bureau and many other groups and individuals working either in Bartow County or on issues that directly affect Bartow County and our businesses and community.
Meetings are open to anyone in the community. The meetings are generally held the second Monday of each month at 8:00 AM at the Chamber.
2017 Meeting Schedule:


(Speakers and topics will be listed as they are confirmed.)

February 13 - Workforce Development - Dr. Ron Newcomb, President, Chattahoochee Technical College

March 13 - Bartow County Comprehensive Plan - Member of the Bartow County Planning Team

April 10 - Bartow County By The Numbers - Commissioner Steve Taylor, Bartow County Government

May 8 - Georgia's Film Industry - Craig Dominey, Senior Film Location Specialist, Georgia Film, Music and Digital Entertainment Office

June 12 - Rosemary Green, District Attorney, Cherokee Judicial Circuit

July 10 - Bartow County Municipalities - Matt Santini, Mayor of Cartersville; Al Pallone, Mayor of Emerson; and Dennis Thayer, Mayor of Euharlee

August 14 - Richard Woods, State School Superintendent, Georgia Department of Education

September 11 - Paul Pugliese, Bartow County Extension Coordinator, University of Georgia Bartow County Extension Office

October 16 - Ross King, Executive Director, Association County Commissioners of Georgia; Tom Gehl, Director, Governmental Relations, Georgia Municipal Association

November 13 - Kathy Nguyen, Senior Project Manager, Cobb County Water System

December 11


Janet Queen

,

Committee Chair

Phone: (770) 842-8153

Email Janet




Shane Evans

,

Committee Co-Chair

Phone: (770) 975-4106

Email Shane